WELCOME TO HOLMBERG FARMS


OUR VISION AND MISSION STATEMENTS
OUR VISION
To be the proud and innovative leader in our industry, holding to the highest business ethics. We will produce consistently superior products and services which exceed our customers expectations as we provide a rewarding work environment for our employees.
OUR MISSION
To position Holmberg Farms to serve our customers needs by identifying and implementing innovative, efficient procedures and a strong commitment to increased employee awareness of the company visions, goals and a total commitment to both internal and external teamwork.
Newly Planted bibs of Variegated Lirope "Aztec" Grass.
This Variegated "Aztec" grass was just planted. They have been growing for about 4-5 months now.

3 gallon Podocarpus from our signature 12 cell Liners
These Podocarpus "Maki" were just stepped up into 3 gallons from our signature 12 cell liners.
General
Manager
Eric Nething
Sales Administrator
Christine
SUPPORT THE COMPANY
By buying our wonderful plants you would be supporting the company, the plant down below is our PLANT OF THE MONTH, it's a wonderful choice to start with.
PLANT OF THE MONTH
Our plant of the month is Desert Rose Mandi's Delight, this Desert Rose has a beautiful flower, it has a triple bloom and branches out very nicely. This is a great choice for mothers day!
 

Our Story
Holmberg Farms started over 30 years ago, but the experience of the owner started at the age of 5 when Douglas Holmberg planted his first plants. Douglas Holmberg has been growing citrus in Florida for almost 60 years, and woody ornamental's nearly as long. Holmberg Farms was just one of the many businesses he started. Now Holmberg Farms is a high quality plant nursery

Flowering Plants
We have a huge range of flowering plants ranging from Desert Roses to Hibiscus and plenty more. We have different varieties of all the flowers, usually different colors and sometimes even the design of the flower. The flowers range in colors from red to blue and a few mixes. The flowers can be a single, double and or triple. Our desert roses are usually the ones with double and triples.

Holmberg Farms
We have many fruit plants ranging from Banana to cherry to fig, pineapple and loquat. These plants or trees are easy to sell, everyone wants some sort of fruit tree. Having fruit trees in your landscape and/or nursery will help you gain popularity.

Holmberg Farms Citrus
Our Citrus is well taken care of, the fruit trees are very plentiful. We have many varieties of citrus, we even have some unusual varieties of citrus trees and/or bushes including finger limes, Red Navel, Australian Red Lime's. These are great trees to sell or to put a few in your yard and make your own grove.
Our Varieties of citrus
There are choices of citrus trees here at Holmberg Farms, we have Kumquats, Finger limes, Lemons, Limes, Oranges, Red Navels and Grapefruit.

HOW TO TAKE CARE OF YOUR CITRUS TREES

Citrus Medley Tree Care Instructions

The most vital aspect of growing a viable Citrus Medley tree is keeping the growth of each of the varieties equalized. Certain varieties are more vigorous growers and can overtake the less vigorous varieties. With regular pruning you can keep a well-balanced Citrus Medley Tree. During the growing season pruning should be done every month, thinning out all variety's as needed.

Another important aspect in the care of your Citrus Medley Tree is removing sprouts from the root stock. These will appear from time to time on the trunk of the tree below the graft union on the main stem. They will also sprout from ground level; any of these sprouts will take nutrients from your varieties and must be removed. The sole purpose of the root stock is to provide nourishment for your tree and assist in the resistance to disease.
Yet another import aspect of caring for your Citrus Medley Tree is pruning any inward growing branches. Try to keep the center of the tree thinned out so that light can get filtered in to the center of the tree. Branches that are growing long and not branching are called shoots and they absorb a lot of energy from the tree and make the tree unbalanced, these should be pruned so they can branch out.
Probably the most important function in growing your Citrus Medley Tree is watering. Moisture level must be checked daily, in most applications watering every other day is sufficient during the hot months, with trickle watering saturating the pot or the ground each time being best. Citrus do not like wet feet but an adequate moisture level must be maintained to maintain tree vigor.
Your Citrus Medley Tree also prefers full sun, but can be maintained in as little as a ½ day of full sun. Best if planted or placed in an area sheltered from the wind.
Planting can be done during any season, but best late in the day while it is cooler. Soak the tree for at least a few hours prior to planting. If the site is compacted disturb the soil approximately 2-3x the diameter of the root ball. This can help deter the surrounding soil from pulling moisture away from the root ball of the plant. We recommend purchasing a bag of slow release fertilizer before planting your Citrus Medley Tree. Read the manufacturers label and check the recommended rates. As you are filling in the soil around your Citrus Medley Tree stop 2 – 3 inches from the top of the root ball and place the labels recommended rate of fertilizer evenly around the root ball. You can then fill in the rest of the soil. Using soil from the hole, form a watering outside the root ball and fill it with water. Keep watered until established as weather dictates. Also check the fertilizer label and top dress, evenly placing the fertilizer on top of the root ball as needed.
Holmberg Farms Office

Once you pass the gate to enter the property you will head straight. Keep heading straight till you get to the gate that says "DO NOT ENTER" Once you get to the gate you will take a left, if you look out your window to the right you will notice a large shade house. Once this shade house ends and you get to the telephone poll you will take a right, the office will be on your left.

How to get to The Loading Area.

If you are going to get loaded you will want to head to the loading area, to get there you will head past the parking in front of the office. Once you get to the T in the dirt road you take a left.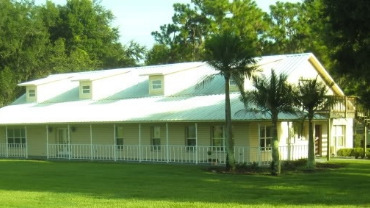 To contact us type name, phone number, email. Have any questions or concerns let us know. We would be happy to answer your questions.